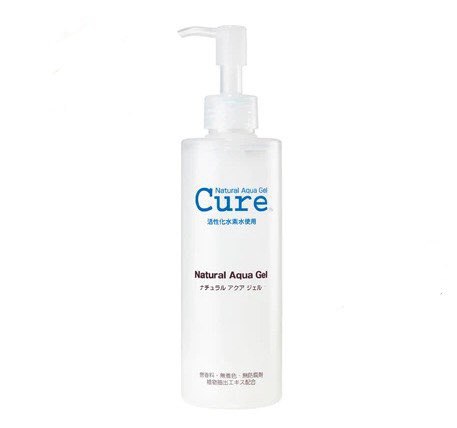 Cure Natural Aqua Gel
Anti-Aging, brighten tone and smoothen skin.
Brighten effect has been proved by Japan's biggest health magazine.
Awarded "Skincare Brand of the Year" by World Branding Awards.
NO FRAGRANCE ● NO COLORING ● NO PRESERVATIVE
HOW IT WORKS
Natural Aqua Gel gently catches dead skin cells on the surface of the skin and removes them without using strong acids. It helps skin metabolism functions better.
There is no need to rub or scrub your skin hard and you will be surprised at how smooth your skin has become.
Beneficial effects of gel should last approximately 3 to 4 months if used properly once or twice a week.
NET WT. 8.82 oz
HOW TO USE
Wash your face as you normally would. Dry off completely.
Pump the nozzle 3 to 5 times to obtain the appropriate amount of gel onto your fingertips and apply to the desired area. Leave on skin for a few moments allowing Cure to react with the dead skin cells.
Gently massage in circular motion for 30 seconds to 1 minute. Do not rub too hard. The gel will turn in to a milky white color, and beads of dead skin cells can be seen as they are lifted off the skin.
Rinse well with water and then follow your regular skincare routine.
For best results, use Natural Aqua Gel twice a week.
Once a thin layer of dried skin is removed, it allows the other skincare products that you use daily to work into your skin more effective.
Natural Aqua Gel can used on other parts of the body such as hands, elbow, neck and knees.
FULL INGREDIENTS
Water (Activated hydrogen water), Glycerin, Crosspolymer (Acrylares/C-10-30 Alky Acrylate), Dicocodimonium Chloride, Steartrimonium Bromide, Aloe Barbadensis Leaf Extract, Gingko Biloba Leaf Extract, Rosmarinus Officinalis (Rosemary) Leaf Extract, Butylene Glycol, Isopropyl Alcohol
KEY INGREDIENTS
Activated Hydrogen Water: helps maximize skin's energy conversion rate and has anti-oxidant properties.
Aloe Barbadensis Leaf Extract: preserves moisture and improves skin's resiliency.
Gingko Biloba Leaf Extract: helps prevent blemishes and freckles. It also helps skin retain moisture.
Rosmarinus Officinalis (Rosemary) Leaf Extract: has anti-bacterial and anti-inflammatory properties.
AWARDS
2005, 2010 @cosme "Best Cosme"
2015 - 2018 Watsons "Best Selling Exfoliator"
2017 - 2019 World Branding Awards "Brand of the year"
MAGAZINES
Featured in over 200 health and beauty magazines around the world
ACADEMY AWARDS & GRAMMY
2009, 2016 Academy Awards - Cure was chosen as a gift to participants!
2016 Grammy - Cure was chosen as a gift to participants!